What is a septic tank?
A septic tank is the first component of a home wastewater system that collects all the water and waste that goes down the drains of your home or business if you are not hooked up to a municipal sewer system. Most tanks are about 1000 gallons in size and are buried underground. The solid waste will remain in tank, and waste water will flow to tank's secondary side into field bed to be dispersed to environment.
What maintenance does my septic system need?
It should be inspected yearly and pumped every two to five years in order to continue functioning properly. Some systems have a filter assembly inserted inline at discharge pipe end, which should be cleaned yearly.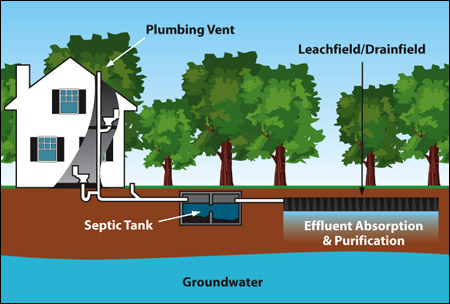 What does a septic tank pumping do?
The cleaning of your septic tank removes all of the waste, scum, and sludge from your tank that remains in tank section, allowing it to work as intended. Once pumped out, a quick visual inspection can determine if any issues may require maintenance, before larger system failure occurs.
I am having my septic tank pumped. What access do you need to my septic tank?
Typical septic tanks have two sections, a primary and secondary side that have separate inspection lids. Once tank is located, lids will be required to be exposed. If the location of you tank is unknown we will do our best to help you find it. Contact us for some simple methods to try to find tank location. As clear a path as possible to tank from area where the septic truck will be setup, for running and removal of suction hose and personnel movement.
How often do I need to clean my septic tank?
Yearly inspections of your septic tank and drain field are recommend by the Ministry of the Environment and other experts. This inspection is critical to avoid costly repairs. The same experts recommend pumping the tank every 2-5 years. This frequency can change depending on the size of your tank and the wastewater demands your family has.
How do I make sure my septic system lasts a long time?
The biggest thing you can do to make your home's septic system last is to have regular maintenance and pumping of your septics tank. If you are already having you tank cleaned and inspected there is one more thing you can do. Make sure that nothing goes down your drains that will make it more difficult for your system to do it job. Paints, oils, fats, garbage and harmful chemicals should be avoided since they kill the "good bacteria" that break down the solid waste in your septic system.
My septic smells bad. What's wrong with it?
Generally speaking your system should function without any major odours since the tank and material and the breakdown process is occurring underground. If you are experiencing some unpleasant smells it could be an indication that your system needs some immediate attention, and an indication of line blockage, vent stack plugging, or the tank requires pumping to ensure system is operating properly.
We need a new septic system installed. Do you do that?
Although our team is fully certified to inspect and install septic systems, we do not install systems. As we do offer inspections and pumping services, we feel that there is a clear conflict of interest if we were to also offer install services. We can definitely recommend many excellent companies in the area that provide this service.
How do I pay for your services?
We accept cash, e-transfer, debit, Visa or cheque.
I am selling my home. Do I need to have my septic system checked?
It is standard practice to have your septic tank pumped out before the new owner takes possession of the house. The purchaser, buyer or real estate agent may want to contact us to do an inspection of the system. Our team is fully certified to provide a septic inspection and provide a detailed report with findings and recommendations.